The 
#MyOutdoorObsession 
Instagram Photo Challenge is over. Thanks to everyone who participated!
In celebration of Hans Florine's book, On the Nose: A Lifelong Obsession with Yosemite's Most Iconic Climb, his sponsors teamed up to provide great gear and apparel prizes. More than 1,500 participants posted photos to Instagram, tagging #myoutdoorobsession. We chose a new winner each week, favoring shots depicting single-minded pursuit, adventure prowess, killer scenery, and, of course, personal style.
The posting period ended November 20, 2016. The Grand Prize Winner was Andrew McQuillen, a middle school physics teacher and avid climber. He won and all-expense paid 4-day/3-night trip to Yosemite National Park, along with the Week 10 prize. Check out his photo, and all of the weekly winners' photos below.
Challenge Theme #10: "Get Out There"
In Andrew's words. . .I've been obsessively thinking about and plotting our return to paradise (the Cirque of the Towers in the Winds) this summer. We have to rethink our strategy from two years ago and train harder to make all 11 summits of the 19-mile Cirque Traverse in a day, but with the right decisions and dedication, it'll be possible."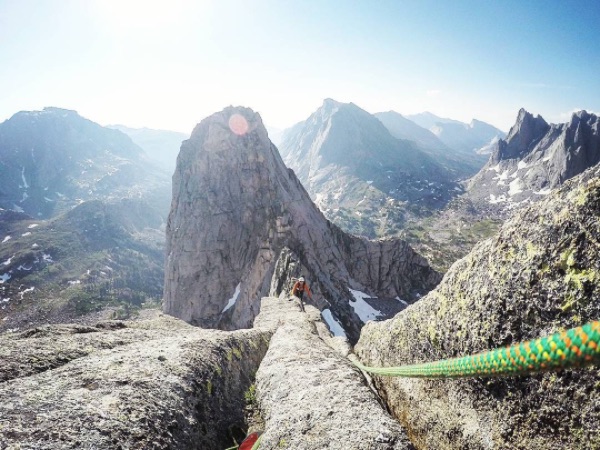 Challenge Theme #9: "Find Your Place"
In Victoria's words. . .I'm not a morning person, so when the sun rises at 8AM in October, I am a happy camper! I can set my alarm for 6AM, hit the snooze button 17 times, and still not miss it!! That was probably the moment I fell in love with Scotland—the views, the hot coffee, the blankets—I wish I could wake up every day like that.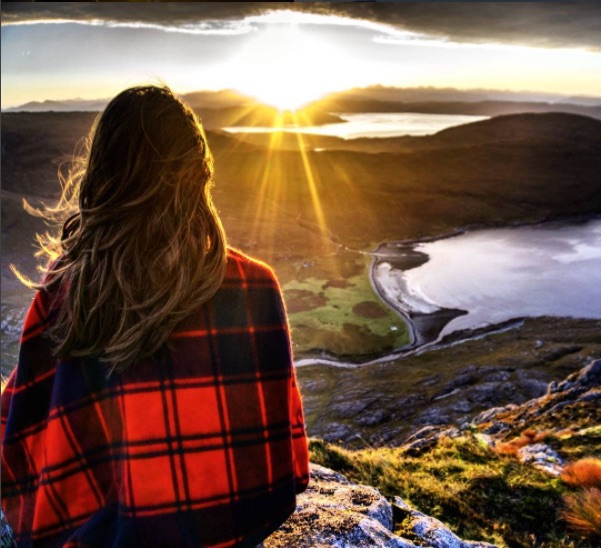 Challenge Theme #8: "Fall Climbs"
Prize:
Goodie bag from the
Access Fund
, including a hoodie, chalk bag, water bottle, mug, and flask.
In Nate's words. . . Bronson Riseng on Kings of Rap (5.12d) at Smith Rock in Oregon.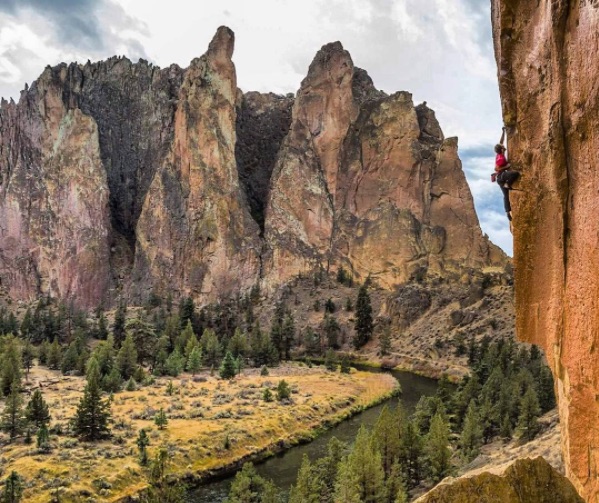 Challenge Theme #7:
"Leave No Trace"
Prize:
Outdoor Research Ferrosi Hoody Jacket
 (MSRP $129) from Leave No Trace
Photographer:
Ryan Gardener
In photo subject Amanda Benbow's words. . .Life is really hard. I'm glad I have places like the Pollen Grains to escape to.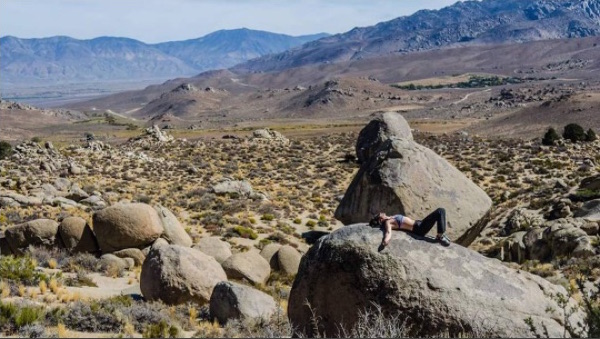 Challenge Theme #6: "The Mountains are Calling"
Prize: A pair of La Sportiva climbing shoes, winner's choice
In Rusty's words. . .Mount Assiniboine was calling, so I went to British Columbia.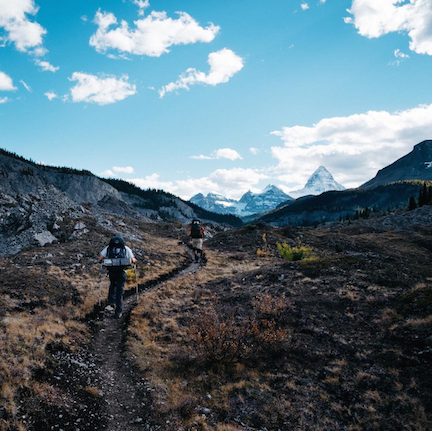 Challenge Theme #5: "High Adventure"
In Clint's words. . . Boone walking the file line on the West Ridge of Mount Hunter with Mount Foraker in the background.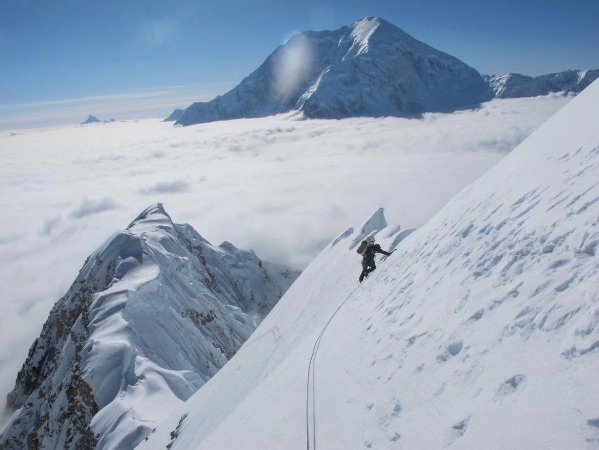 Challenge Theme #4:
"The Art of Flow"
Prize:
Complete Tenkara Rod Set,
including 12-foot Tenkara USA Iwana rod and everything you need to get started fly-fishing (MSRP $189)
Photographer: 
Sam Feuerborn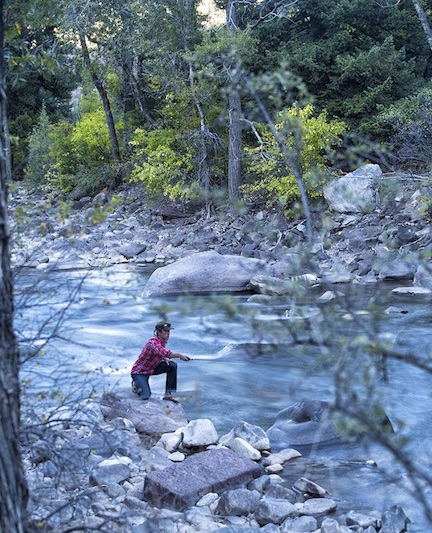 Challenge Theme #3: "Night Adventures"
In Natasha's words. . . Glen Aulin can be a a very busy high Sierra camp in Yosemite National Park. All the more reason to hang out under the stars at night for a wonderful view and some quiet time. Using a headlamp is a great way to illuminate a foreground in your night photography shots.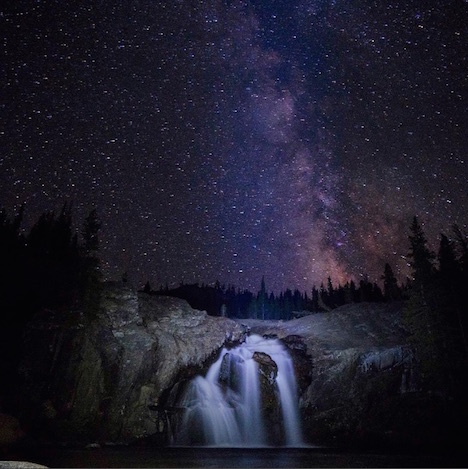 Challenge Theme #2: "On the Rock"
Prize: 6-month membership to Touchstone Climbing
In Kurt's words . . . This is my buddy Patrick on Captain Hook (5.10-) at Salt Point State Park, CA, making the move out of the chimney and onto the roof. You have to rappel down to access the Treasure Chest Wall, which is committing because the only way back up is to top out on the route. And you can only access the wall during low tide, otherwise a sleeper wave will knock your belayer out.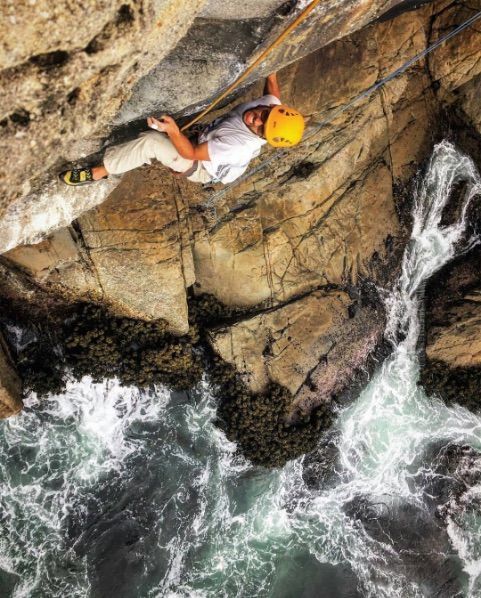 Challenge Theme #1: "You, Out There"
In Nils's words . . . This image was taken at Heceta Head Lighthouse State Scenic Viewpoint on a trip to the central coast of Oregon on a stormy winter day. Most people walk up to the lighthouse (out of sight to the right), or to the beach at Devils Elbow (out of sight to the left). But this couple hiked out to a point above the crashing waves. I converted the image to black and white, which seemed more appropriate given the dramatic, stormy scene.